Chronicle of the creation of the Red programming language.
Created by Nenad Rakocevic "DocKimbel".
Inspired by REBOL Programming language and bootstraping created with REBOL.
I will publish news for Cheyenne, REBOL and mobile phones.
mardi 27 décembre 2011
ARM

is now supported on

Red

/System

.

http://www.red-lang.org/2011/12/arm-support-released.html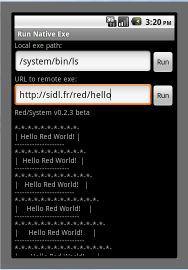 lundi 19 décembre 2011
REBOL
, the programming language created by
Carl Sassenrath
, has inspired another programming language : World !
Created by John Niclasen (alias Geomol), an active contributor to
REBOL
(NicomDB, NicomDoc, RebXML, ...).
For more information, visit the Official Web Site :
http://www.world-lang.org/
The source are available at Github :
https://github.com/Geomol/World
There's also an
Altme
group #world to discuss about this new language.
Nicolas